​
Microsoft Office Documents Viewer, Open source Document & Spreadsheets Editor, PDF Maker, Voice Recorder, Document Scanner and File Manager, all features in a single app.
THE BEST DOCUMENT EDITING AND MANAGEMENT SUITE FOR IPHONE AND IPAD.[/b]
+ Create and Edit Rich Text Documents on your iPhone or iPad.
+ Create and Edit Spredsheets
+ Scan documents and convert to PDF
+ Create Hand-Written notes and draw Sketches
+ Create Voice Memos
+ Transfer files to or from your PC or Mac wirelessly or through USB
+ Work on your documents even when you are not connected to the internet.
+ Send documents as EMAIL ATTACHMENTS
+ Synch your documents with Dropbox, Google Drive, Sky Drive or FTP.
+ View Word & Excel files (Office 2007/2008/2010)
+ VIEW PowerPoint, PDF, iWork, Text, .RTF, and more!
+ Open & Edit files created through this app from any 3rd party app that supports the "Open In" feature
+ Create or Download Documents from anywhere and carry it with you wherever you go
DOCUMENT EDITOR:[/b]
+ View/Edit/Create Rich Text Documents
+ Fonts, Styles,Font Sizes
+ Bold, italic, Underline, Strike out
+ Text Color, Background Color selection
+ Text Alignment
+ Import Pictures from your Photo Library and paste in the documents
+ Take Pictures from Camera and insert in the document
+ Various bullet styles/formatting
+ Auto bullets/numbers
+ Undo Changes
+ Easy Copy and Paste
PDF EXPERT:[/b]
+ Draw sketches in your PDF documents.
+ Write hand-written notes or comments or highlight text in your PDF documents.
+ Fill out PDF Forms and send through email.
+ Sign & Send Documents - Receive documents through email, sign them using this app and send back through email.
SPREAD SHEETS :[/b]
+ Create & Edit Spreadsheets that can be opened or edited in Microsoft Excel
+ Editing features including colors, fonts, sizing etc
+ Multiple Select operations copy, paste, cut etc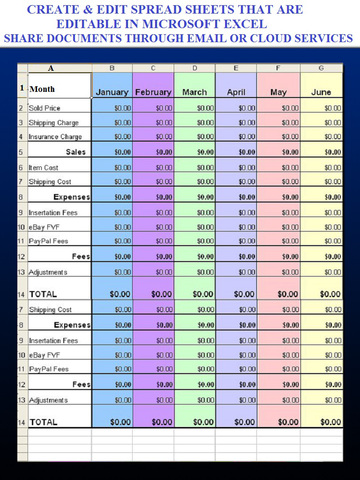 DOCUMENT SCANNER :[/b]
+ High quality document scanner included with no additional in-app purchase
+ Scan documents and convert to PDF
+ Scan Images and convert to PNG, JPG or PDF
+ Document / Image cropping and size adjustment
+ Easily sharing through email attachment, Whats App, Dropbox, Google Drive and Microsoft Sky Drive
VOICE RECORDER:[/b]
+ Record Voice Memos and save on your iPhone or iPad
+ Play recorded memos or share with others
+ Easily transfer your recordings to PC or Mac
PDF Converter[/b]
+ Convert Microsoft Word, Power Point, Excel, Text and iWork documents to PDF
+ Annotate converted PDFs and write your notes on PDF within the app
PDF To Go VIEWING :[/b]
+ Thumbnail, Fit to Screen, Fit to Width, Actual Size & full screen views
+ Go to/rotate page
+ Search
+ Multiple Bookmarks
+ Printing PDF Files to AirPrint Printers in your wifi network
+ Email Attachments
SHARING :[/b]
+ Send and Receive Documents as Email Attachments
+ Dropbox
+ Google Drive
+ FTP
FOLDERS & SUB-FOLDERS :[/b]
+ Create Folders & Sub-folders
+ Delete, Rename files
+ Drag and Drop files to Move them across folders
DOCUMENT TEMPLATES :[/b]
+ Sample Resume
+ Sample Cover Letter
+ Meeting Minutes Template
+ Business Plan for Small Businesses
+ Weekly/Monthly Planner
+ Contract for the Sale of Goods
+ Resignation Letter Sample
+ Power of Attorney
+ Weekly Time Sheet
+ Agenda Sample
+ Statement of Services
+ Budget Sheet
+ Collection Demand Letter
+ Blog Post Sample
And many more…
SAMPLE EMAILS :[/b]
A large collection of ready-to-use sample emails in the following categories
+ Business
+ Employment
+ Complaints
+ Marketing
+ Personal
What's New in Version 2.1 :[/b]
+ Documents Scanner
+ Fax documents from within the app
+ Create/Edit Spreadsheets
+ Box and SugarSync integration
Loading ...